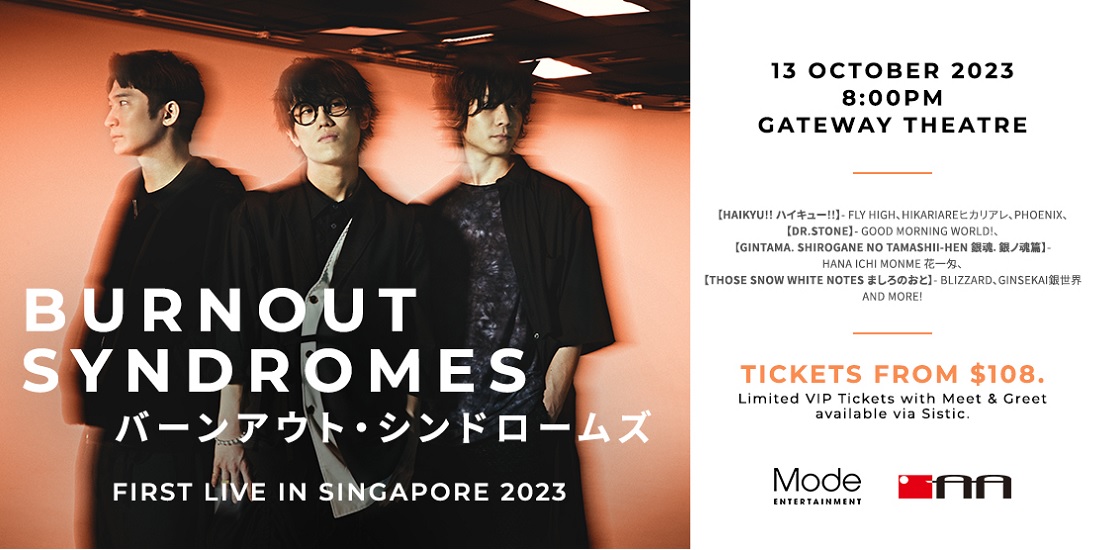 BURNOUT SYNDROMES First Live in Singapore 2023
13 October 2023, 8PM
Gateway Theatre
BURNOUT SYNDROMES (バーンアウト・シンドロームズ), consisting guitarist and vocalist Kazuumi Kumagai (熊谷和海), bassist Taiyu Ishikawa (石川大裕), and drummer Takuya Hirose (廣瀬拓哉), are famously part of the original soundtrack of the anime Haikyu!!. The band has gained worldwide acclaim for their works on various anime theme songs, including:
【Haikyu!! ハイキュー!!】- Fly High, Hikariareヒカリアレ,Phoenix
【Dr.STONE】- Good Morning World!,
【Gintama. Shirogane no Tamashii-hen 銀魂.銀ノ魂篇】- Hana Ichi Monme花一匁,
【Those Snow White Notes ましろのおと】- Blizzard, Ginsekai銀世界 and more!
Their anime music videos have amassed millions of views from fans all around the globe. Anime fans and fans of Japanese pop music, don't miss out on this rare opportunity to get up close with Burnout Syndromes this October!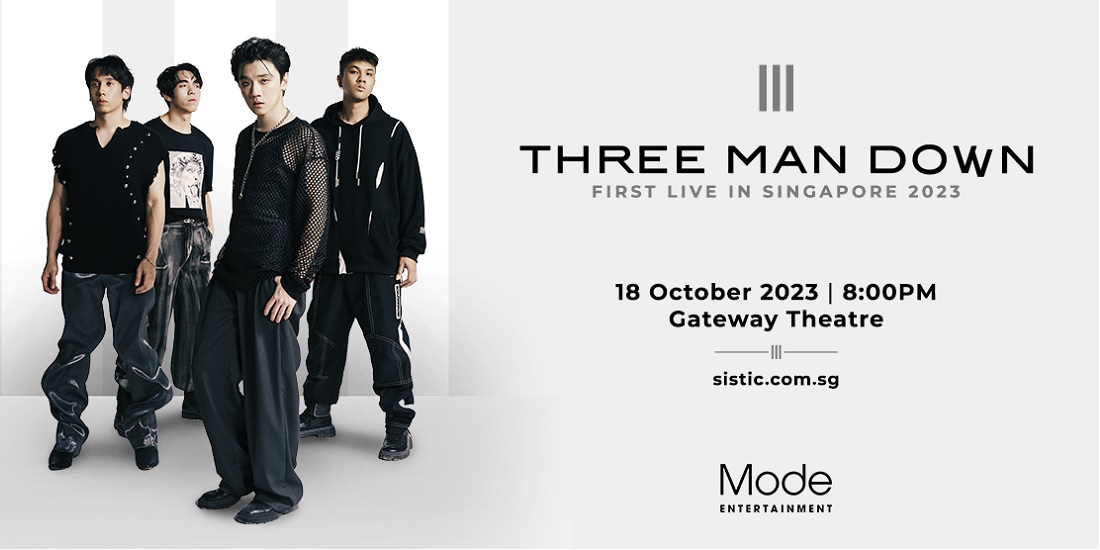 Three Man Down First Live in Singapore 2023
18 October 2023, 8PM
Gateway Theatre
Thailand's popular 4-man band will be heading to Singapore for the first time for their solo concert on 18 October 2023, 8pm at Gateway Theatre!
Three Man Down, consisting members Kit (Vocalist), Toon (Guitarist), Thay (Drummer) and Seng (Synthesizer), made their debut in 2016 and quickly rose to become one of the most exciting live bands in Thailand. Their popularity exploded regionally when their original hit song "By My Side (City)" was covered on the drama series "My School President" by actors Gemini & Fourth, leading to over 100 million views on YouTube and over 20 million streams on Spotify. In 2023, they were awarded "Best Band of The Year" by The Guitar Mag Awards.
The city certainly won't be lonely with THREE MAN DOWN this 18 October in Singapore. Don't miss them in a fiery evening celebrating music, passion and youth energy.