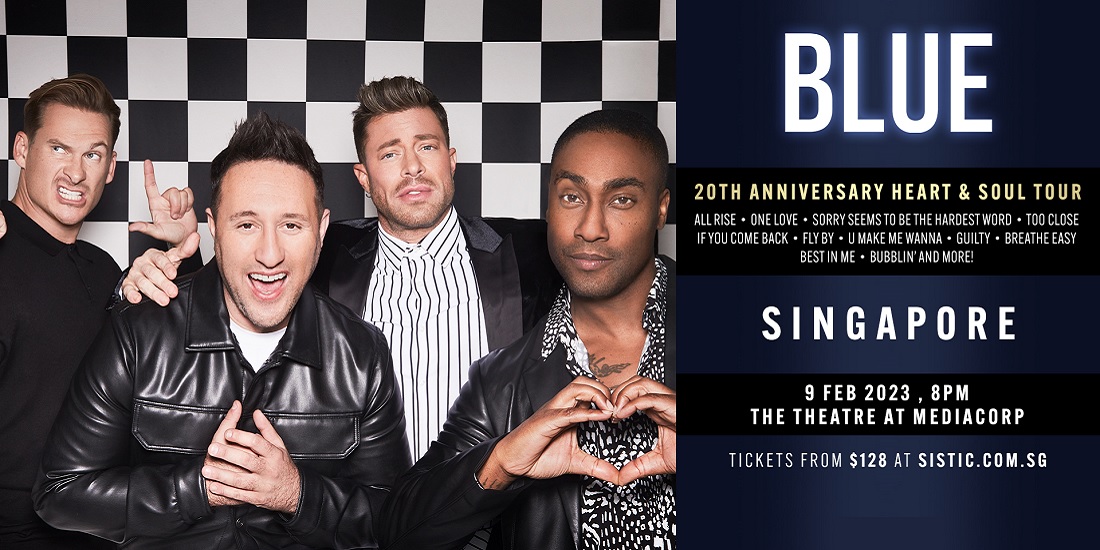 Blue 20th Anniversary Heart & Soul Tour Singapore
Thu, 9 Feb 2023, 8PM
The Theatre at Mediacorp
Blue is bringing their 20th-anniversary world tour to Singapore! The 'One Love' hit-makers – comprising Duncan James, Lee Ryan, Anthony Costa and Simon Webbe – will hit Singapore on 9 February 2023, 8pm, for the 'Heart and Soul Tour' at The Theatre at Mediacorp.
The concert will mark two decades since the release of their chart-topping 2001 debut album, 'All Rise'. A huge phenomenon during the golden era of boybands, Blue serenaded millions of fans with their slick move and multi-platinum hits such as "All Rise", "One Love", "Too Close", "If You Come Back", "Guilty", "Fly By II", "Best In Me", "Sorry Seems to Be The Hardest Word", "U Make Me Wanna", "Breathe Easy", "Bubblin'" as well as hits from their latest album!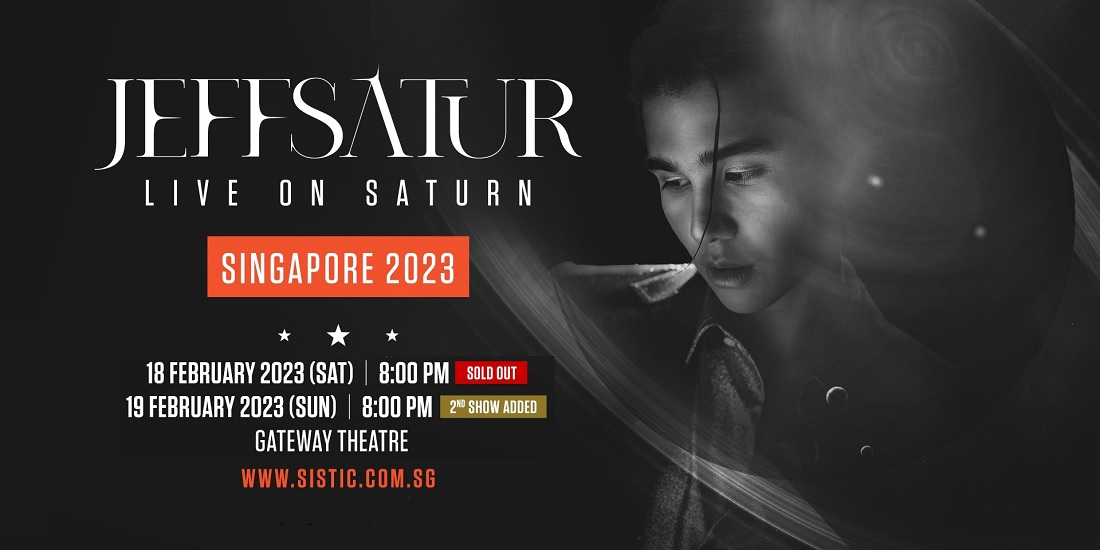 Jeff Satur LIVE ON SATURN – Singapore 2023
Sat & Sun, 18 & 19 Feb 2023, 8PM
Gateway Theatre
Thai singer-songwriter, actor and producer Jeff Satur will be performing in Singapore at his first full solo concert JEFF SATUR – LIVE ON SATURN!
Popularly known for his starring role as a mafia empire heir, "Kim" in the massively popular Thai show KinnPorsche: The Series, Jeff is also well-loved for his angelic vocals and immaculate skills as a composer. As a major emerging player in the Thai music industry, he recently won international audiences over by writing, producing and lending his voice to one of the show's popular OST songs "Why Don't You Stay", which has amassed over 32 million hits on YouTube. The music video to his hit song "Fade" has clocked over 22 million hits within just one month of release.
Get set for an exciting Saturday Thai-English fusion concert experience, as Jeff Satur brings you to Saturn and back with his amazing vocals, music and artistry for the first time in Singapore!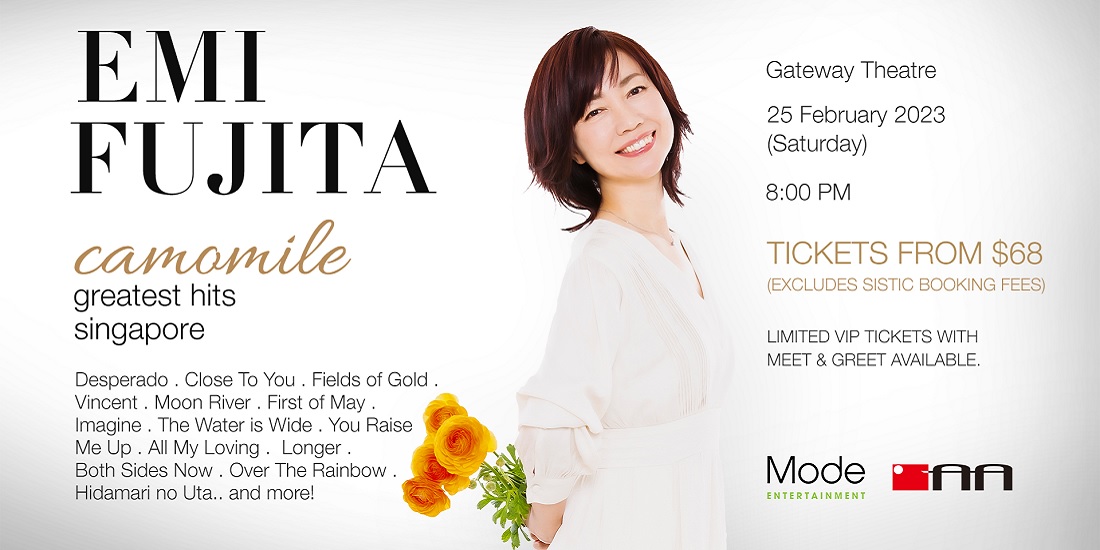 Emi Fujita – Camomile Greatest Hits Singapore
Sat, 25 Feb 2023, 8PM
Gateway Theatre
6 years after her last concert in Singapore, "Sound Therapy" vocalist Emi Fujita returns with her most comprehensive show to date, "Emi Fujita – Camomile Greatest Hits Concert" on 25 February (Sat) 2023, 8pm, performing the greatest hits from her longstanding career.
Responsible for some of the world's greatest audiophile vocal recordings in the past decades such as her version of "Fields of Gold" (Sting), "First of May" (Bee Gees) "Desperado" (Eagles), "All My Loving" (The Beatles) and "Longer" (Dan Fogelberg), Emi Fujita is renowned for her pristine and soothing voice which has gained her the reputation of "Sound Therapy" and "Sound of Medicine", similar to the stress relieving effect of "camomile".
Expect a mesmerising and relaxing evening with top vocalist Emi Fujita as she serenades you with beautiful interpretations of your favourite songs of all time.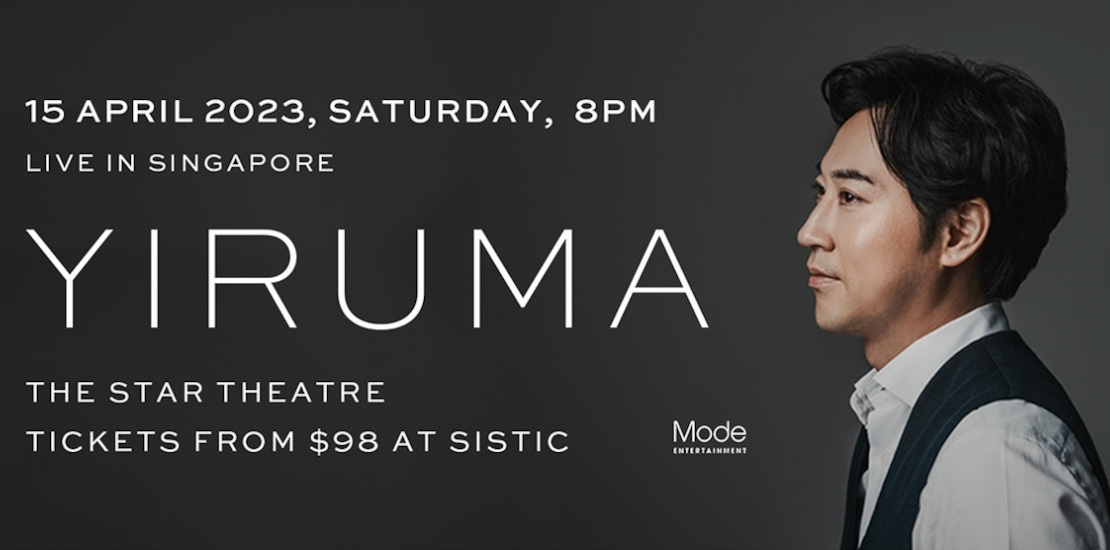 Yiruma Live in Singapore 2023
Sat, 15 Apr 2023, 8PM
The Star Theatre
World-renowned pianist and composer Yiruma returns to Singapore with his long anticipated concert in 2023! After a long wait of 5 years, South Korean pianist and composer Yiruma is set to return to the Singapore stage with his widely anticipated concert on 15 April (Sat) 2023 at The Star Theatre. He will be performing his greatest hits, as well as tunes from his new album.
One of the world's leading composer-pianists, Yiruma is best known for his emotional and beautiful melodies including the globally popular 'Kiss The Rain' and 'River Flows In You' performed by millions of amateur pianists around the world, and his own recordings have received over two billion streams.
Don't miss this emotive experience with Yiruma, as we celebrate memories, love and hope in this One-Night-Only concert.