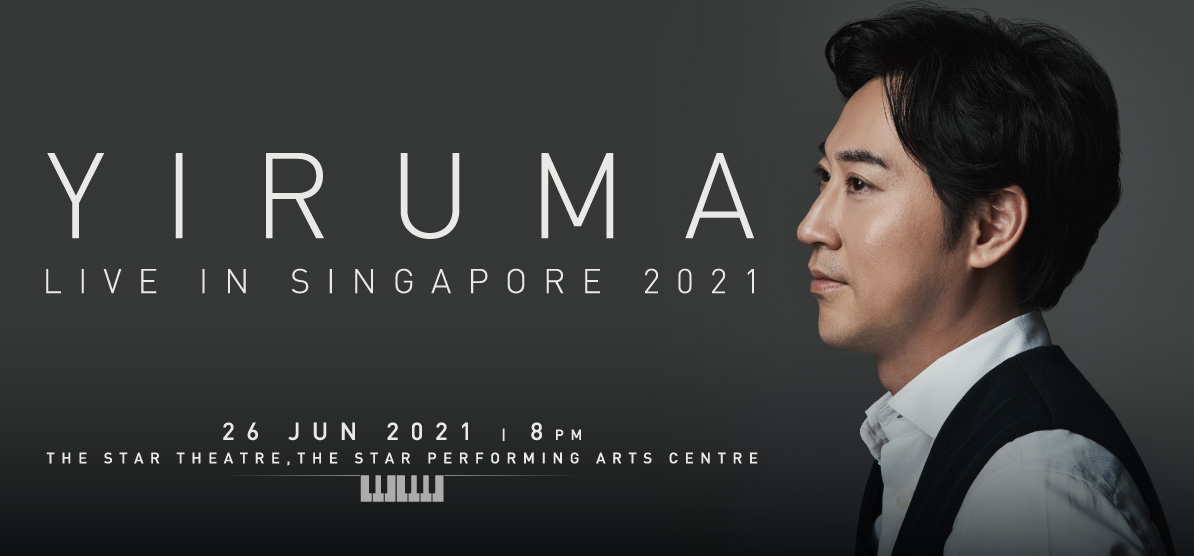 UPDATE (as of 25 May 2021):
Mode Productions would like to inform that Yiruma LIVE IN SINGAPORE 2020, originally rescheduled to be held on 26th June 2021, is now regrettably cancelled due to the COVID-19 situation. We look forward to bringing Yiruma back to Singapore in the future.
Synopsis
Internationally acclaimed contemporary pianist-composer Yiruma will return to Singapore on 26th June 2021 (Saturday), at The Star Theatre for a brand new concert.
After his successful sold-out concerts in Singapore, Yiruma will return to Singapore on 26th June 2021! Expect to hear his signature classics LIVE such as "River Flows in You", "Kiss the Rain", "Love Me" and "May Be". Yiruma is set to captivate audiences once again with his charming personality and engaging interaction at the concert.
Yiruma is not a traditional pianist by any means. Rather than being stuck in the traditional boundaries of a performer-composer, he continues to extend his musical reach by collaborating with a number of artists, including those from the K-Pop genre, notably 2AM, Ailee, and Baek Ji Young.
Yiruma's piece "When the Love Falls" was included on the original soundtrack album for "Winter Sonata", the drama that started the sensation now known as the Korean wave.
To date, Yiruma has released numerous albums that encompass elements of both the contemporary and classical music genre. His videos on YouTube have reached over 400 million views, which is a strong indication of his worldwide popularity and appeal. Yiruma has said that he wants his music to heal, inspire, and remind the audience of love and hope. His simple yet melodic and emotional pieces resonate well with the modern listeners; millions around the world are moved by his music.
Over the years, Yiruma has performed successful tours around the world, from Singapore to China, Malaysia, Australia, Europe, and the United States. In homeland Korea, he holds the record as the classical artiste with the largest audience at a single concert, and the greatest number of concerts by a single artiste!
Don't miss Yiruma in this one night only brand new concert – Bring along someone special to experience his beautiful music and charisma 'live' in Singapore and create a fond memory with the soundtrack to your lives.
Ticket Info
Date: 26 June 2021, Saturday
Time: 8PM
Venue: The Star Theatre, The Star Performing Arts Centre
Ticket Prices: $168, $128, $108, $98, $88 (excludes SISTIC Booking Fee)
Limited VIP: $288*
*Each $288 Limited VIP ticket holder will be entitled to premium seat and a SOLO PHOTO with Yiruma at an Exclusive Meet & Greet Session after the concert.