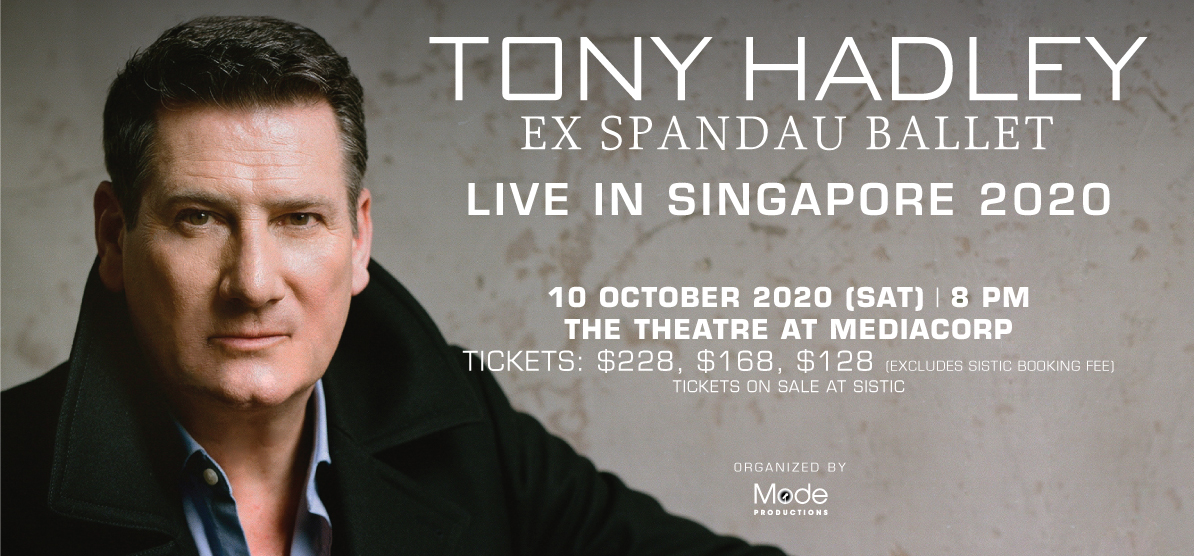 UPDATE (as of 4 Sept 2020):
Mode Productions would like to inform that TONY HADLEY LIVE IN SINGAPORE 2020, originally rescheduled to be held on 10th October 2020, is now regrettably cancelled due to the COVID-19 situation. We look forward to bringing Tony Hadley back to Singapore in the future.
Synopsis
TONY HADLEY, former lead singer from one the biggest bands of the 1980s, Spandau Ballet will return to Singapore on 10 October 2020 (Saturday), at The Theatre at Mediacorp for an exciting solo concert with his full band.
He will be performing Spandau Ballet's biggest hits such as True, Gold, Through The Barricades, Only When You Leave, Round and Round, I'll Fly For You, To Cut A Long Story Short, new material from his new album TALKING TO THE MOON, plus some surprises from his personal favourites!
Millions know TONY HADLEY as the former front man of Spandau Ballet, which earned him the accolade of "The Voice", and undeniably one of pop's great vocalist.
His unique voice made him the perfect lead vocalist for the biggest band in the New Wave invasion exploding out of the UK in the 80s, with 23 hit singles, selling over 25 million albums and spending over 500 weeks on the UK Charts.
Thirty years on, the incredible voice of Hadley still brims with passion and fire as it first did all those years ago.
His latest solo album Talking To The Moon was co-written by Tony, with a host of other talented songwriters. The first single Tonight Belongs To Us was written by Toby Gad (credits include John Legend's All Of Me and Beyonce's If I Were A Boy). Fellow 80s alumni Peter Cox and Richard Drummie of Go West contributed on Skin Deep. The album highlight, What Am I – a deeply personal track about leaving Spandau Ballet – was co-written with Mick Lister.
Critics have been raving about Tony's solo shows:
"I have rarely been to a concert where the artist was wrapped in such a warm, accepting and encouraging atmosphere — every song was like an encore." – The Mancunion
"With effortlessly grand vocals, Hadley certainly had the audience on his side." – Express & Star Birmingham.
Fans in Singapore will enjoy this amazing evening, seated comfortably in the cool air conditioning, watching their favourite Spandau Ballet hits performed 'live' by the one and only Tony Hadley!
Ticket Info
Date: 10 October 2020, Saturday
Time: 8PM
Venue: The Theatre at Mediacorp
Ticket Prices: $228, $168, $128 (excludes SISTIC Booking Fee)
Very Limited VIP Package with Pre-Show Meet & Greet available.
VIP Package:
–           Premium Seat
–           Solo Photo with Tony Hadley before the concert